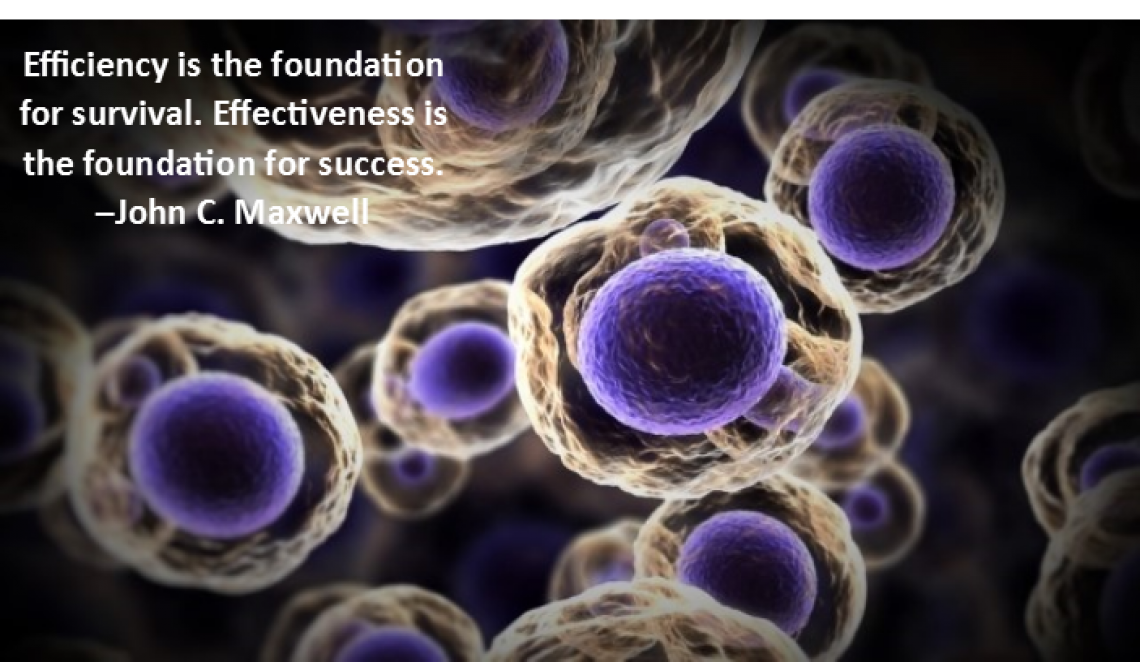 Exercise physiology fascinates us at Phyzseek.  We spend many hours studying it and developing theories based on the data we compile.  Sometimes we come across information that is counterintuitive and subject to debate.  Today's blog is one such topic.
The classic definition of efficiency is the ratio of work performed to the amount of energy used to perform that work.  Human physiology considers an efficient metabolism to be one that uses the least amount of energy to fuel daily functions.  In many cases, such as endurance exercise, professional sports, business and home energy consumption, it is important to be efficient.  So, being efficient is a good thing, right? 
Well, the answer may not be so straightforward when it comes to maintaining a healthy body weight.  In fact, it may be better to be INEFFICIENT.  Counterintuitive?  Maybe, but in today's world, we tend to consume too many calories each day and an inefficient metabolism would burn more calories helping us to better control our weight.
Here's the challenge: During evolution, our metabolisms became highly efficient because that's what was required to maintain life in a time when food (calories) was scarce and hard to obtain.  To obtain food, early man had to work for it.  They needed to hunt and gather which burned a lot of calories. 
Today, we don't hunt or gather.  We go to the refrigerator and grab food often packed with excessive calories.  On top of this we live more sedentary lifestyles.  So, when we overfill our energy tanks by consuming too many calories, we store what we don't burn as fat.  As a result, a massive obesity epidemic has engulfed the modern world. 
What if there was a way to train our body's to become LESS EFFICIENT to compensate for and adapt to our modern lifestyles?  Assume a person were to consume the same amount of calories as they normally do.  But, because they have trained their bodies to be more INEFFICIENT, they would burn more calories during and after exercise.  Under this scenario, he/she would tend to lose weight.
How can we train our bodies to become more INEFFICIENT?  The answer lies in the two primary ways our bodies produce energy from food – aerobic (requires oxygen) and anaerobic (does not require oxygen) metabolism.  Our bodies convert most of the carbohydrates we eat into its most basic forms, one of which is a simple sugar called glucose.  Then, through either aerobic or anaerobic metabolism, glucose is converted into chemical energy in the form of ATP (adenosine triphosphate).  ATP is used to drive many of the energy-requiring processes in the body, such as muscle contraction, maintaining cell structure, and protein synthesis. 
Anaerobic metabolism has been around a lot longer than aerobic metabolism.  In the very early days of life when only single celled organisms lived, metabolic efficiency was not crucial.  These relatively simple life forms did not require large amounts of energy to maintain daily function.  So, they could use inefficient anaerobic metabolism to produce energy.  The amount of energy produced in the form of ATP through the anaerobic pathway is very small – 2 ATPs per molecule of glucose. 
As the complexity of organisms increased and the earth's atmosphere became more oxygen-rich, a more efficient metabolic process developed.  Aerobic metabolism was born allowing organisms to produce more energy from each gram of food.  To illustrate its greater efficiency, aerobic metabolism can produce up to 38 ATPs per molecule of glucose compared to only 2 ATPs for anaerobic metabolism.
So, why are the relative efficiencies of aerobic and anaerobic metabolism important for us to understand?  If we could force our bodies to become more anaerobic as opposed to aerobic, we could become LESS EFFICIENT thus producing less chemically stored energy (fewer ATPs) from each morsel of food that we eat.   With less energy generated from our food, more of each gram of food must be used to produce the required amount of ATP demanded by exercise.  As a result, there would be fewer unused calories that could be stored as fat.  So, as long as you don't increase your caloric intake to compensate, you would tend to lose weight as more calories are used than consumed.   
But, can we really train our bodies to become more anaerobic?  The answer is yes.  How?  Instead of doing steady-state aerobic exercise such as long runs on the treadmill, perform high intensity exercise, which causes your body to rely more heavily upon anaerobic metabolism.  As exercise intensity increases, your body will use the anaerobic system more to produce ATPs.  As a result, you will more INEFFICIENTLY use calories and it will be easier to control your weight.
And, there's a bonus.  As you increase your exercise intensity and anaerobic metabolism takes over from the aerobic kind, blood lactate levels rise.  As blood lactate increases, our bodies must clear it.  Some gets converted into ATP through the aerobic metabolic pathway but a significant portion gets sent to the liver and gets re-converted into glucose through gluconeogenesis. 
But, guess what!  Gluconeogenesis requires the NET USE of 4 ATPs.  So, not only does anaerobic metabolism result in fewer ATPs produced per molecule of glucose, but the lactate generated during anaerobic metabolism, causes our bodies to BURN another 4 ATPs each time lactate gets re-converted into glucose.  As exercise intensity rises, we tend to shift increasingly toward anaerobic metabolism and even more lactate is produced. 
By increasing exercise intensity, we can cause our metabolisms to become less efficient forcing it to burn a greater amount of fat and calories.  So, forget endless runs, to counteract evolution and to more easily maintain a healthy body weight, you need to train your body through high intensity exercise to be more anaerobic – like our single cell ancestors.
At least that's how we see it here at Phyzseek.
Eric J. Ende, MD, ACSM-CPT
Phyzseek
CEO & Co-Founder