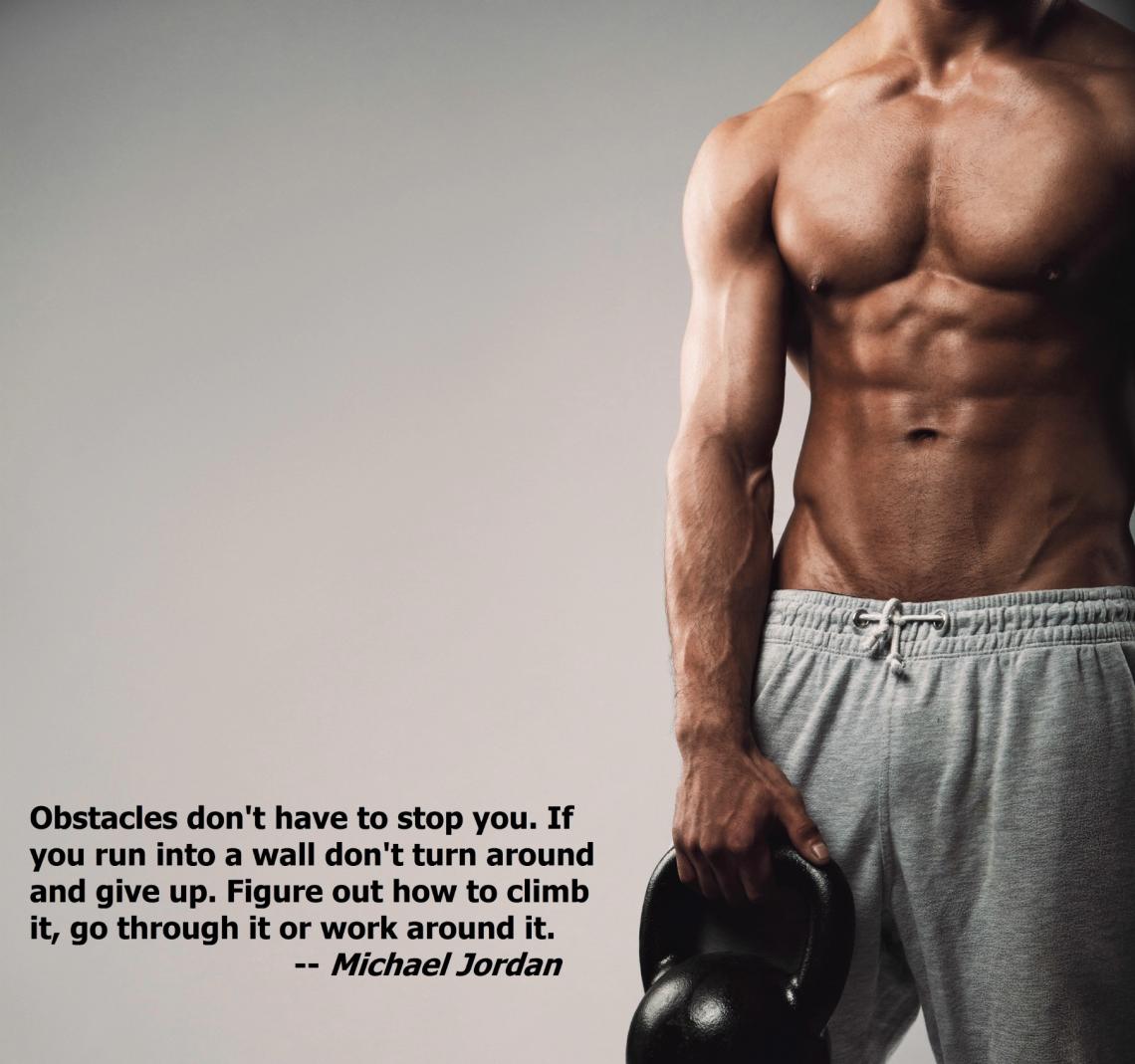 It was 2008 and I had just turned 40 years old.  I had been working out, essentially the same way, since I was 15.  I would run a few miles twice per week and lift weights a couple of times each week as well.  Despite a consistent workout schedule and healthy eating habits, I noticed that my body and health were starting to reflect my age.  I was seeing extra fat gather around my mid-section.  I was increasingly tired, particularly at the end of the day and I wasn't sleeping well.  I was getting physically weaker and let's just say my hormone levels were definitely not where they were when I was in my 20s.  It was clear that my fitness level and health were heading in the wrong direction. But why? I exercised and I was disciplined with my diet but my fitness level was slowly deteriorating.
I felt like I was at a crossroads.  I could either gracefully go down the path that I was witnessing many of my friends heading down, which led to a gradual increase in weight and an overall decline in fitness.  Or, I could take another path toward renewed health and fitness. But how?
I learned from a friend about a gym that was doing a popular boot camp style fitness program that he started a few months earlier.  My buddy swore that the workouts were different and better than any he had ever done throughout his life.  He told me the exercise program seemed to be effective and the results he was seeing were amazing.  He had lost weight, gained lean muscle mass, and had more energy.  This of course was very intriguing to me.
I started almost immediately.  During my first day, which was an AMRAP (As Many Rounds As Possible) of five different exercises, the trainer asked me how many minutes I thought I would finish of the 20 minute workout.  Because I had been working out for the past 25 years and thought I was in pretty good shape, I had no doubt that I could easily finish the entire 20 minutes.  I WAS WRONG.  12 minutes into the workout, I almost threw up and had to stop.  Dejected, I briefly pondered my declining fitness and decided to re-dedicate myself to regaining my youth.
The workouts of the day (WODs) were highly variable and very intense with many different exercises sequenced in a variety of different ways.  Olympic weight lifting was a major component of the workouts.  Performance during the workouts was measured and posted on the gym's whiteboard at the front of the room.  Athlete performance was quantified based on time, number of reps or rounds performed. 
During the next 5 - 6 weeks, my ability to complete the workouts and perform with proficiency steadily improved.  I was able to do certain exercises that I not only couldn't do prior to starting (pull-ups and double unders) but I even started enjoying exercises that I initially hated (burpees and wall balls).  I found that as I got better at each of the exercises, I started to enjoy the workouts even more. 
I continued to do the high intensity boot camp style workouts for the next 6 years with dramatic improvements in my fitness, lean muscle mass, ability to control my weight, and energy level.  However, I was also getting injured every couple of months (back, neck or knee), typically related to the Olympic lifts that were incorporated into many of the workouts.  The issue was not necessarily with the Olympic lifts, but the workouts were designed such that people were encouraged to perform highly technical movements as quickly as possible, for a high number of reps, using a heavy weight.  Once exhausted during the intense workouts, form would go out the window and the potential for injury would rise exponentially.
I realized that although it had helped me become extremely fit, my days of doing high intensity workouts with Olympic lifting and heavy weights were coming to an end.  I was worried about continued injuries and a decline in long term daily function.  While the exercise philosophy to generate elite fitness was superior to anything that I had ever experienced, unfortunately it was not ideal for people who were concerned about injury, and more importantly, functional longevity. 
As I considered leaving the gym, I spoke with current and former members as well as people who were afraid to join, many of whom echoed similar concerns.  Most felt anxiety associated with getting injured or exacerbating current injuries. Many women worried about becoming too "bulky" due to the heavy weights and Olympic lifting.
As a medical doctor with a strong understanding of exercise physiology, I embarked on a scientific mission of developing an exercise program that incorporated the benefits of the high intensity short duration style workout regimen but eliminated its pitfalls.  To better understand how to prescribe a solid exercise program, I studied and received a certification from the American College of Sports Medicine as a Personal Trainer (ACSM-CPT). 
This journey started me down yet another renewed path of health and fitness.  I collaborated with a good friend, Chad LaBonte, who did the high intensity boot camp workouts with me. And like me had to stop due to continued injuries to his lower back. Chad is a former college athlete and fitness guru that has trained across a broad spectrum of fitness disciplines including powerlifting, kickboxing and yoga. We were aiming to develop workouts that had a lower chance for injury, burn fat while adding lean muscle, and most importantly, enhanced long-term daily function.  In addition, we wanted the program to maximize motivation in order to maintain an ongoing commitment to it.
It certainly wasn't lost on us that by choosing to work out alone, it would be more difficult to remain motivated to work out at a level of intensity needed to achieve our fitness goals.  So, every workout needed to be designed to generate measureable data that could be easily tracked and utilized to compare performance over time, which could be used to motivate ourselves to continually improve. 
Captured data would include time to complete a workout, number of repetitions performed during the workout or rounds done in a fixed period of time.  We developed seven types of workouts falling into three main categories: (1) endurance, (2) intervals, and (3) lactic loading.  The workout regimen would be repeated each week although the exercises performed during each workout would vary significantly but not so much so that proficiency couldn't be maintained.  Each month the schedule was to be repeated so that performances could be compared on a consistent basis.
Utilizing proven exercise science, we came up with workouts that were highly variable, very time-efficient, focused on coordinating key muscle groups of the body to work in tandem, and were intense but fun.  Importantly, heavy weights and highly technical Olympic power lifting were eliminated.  Each daily workout during the week was created so that it targeted the body in a different way.  Some days focused on high intensity interval training (HIIT) in order to create peaks and valleys of anaerobic and aerobic work.  Other days were designed to be more consistently anaerobic in order to increase blood lactate levels steadily throughout the workout while other days focused more on aerobic exercises to expand aerobic capacity.  All of the exercises targeted the largest muscles of the body including the gluts, lats, quads and core. 
The workouts stimulate aerobic and anaerobic conditioning as well as full body muscle strength, toning, flexibility and coordination.  By stressing the body's energy systems in a very specific manner, the exercises encourage the body's metabolism to adapt in a way that increases the burning of fat, reduces the storage of fatty acids in adipose tissue, increases lean body mass, and most importantly, promotes and enhances daily function.  In addition, an added benefit would be to drive more normal levels of key hormones which tend to decline with age.
I began this newly designed workout program in my garage.  To outfit my garage gym, I purchased a pull up bar, a wall ball, light weights, a kettlebell and a few other pieces of exercise equipment.  I started to see great results in a very short period of time.  Not only did my body weight decline and lean muscle mass increase as I gained strength, I also noticed that I had significantly more energy.  And, equally as important, I noticed a dramatic reduction in nagging injuries.  Interestingly, when I had a physical later that year, my testosterone level was almost twice as high as the previous year.
After three months of significant personal success with my new exercise program, I began to recruit others to join my new garage gym.  The first was a 56 year old former Army Ranger.  He started in reasonably good shape and was only slightly overweight but he wasn't very proficient at the exercises, initially, but that quickly changed.  The second to join us was a 39 year old former NCAA All-American college athlete.  He also started somewhat overweight and had limited capabilities to perform a few of the exercises.  That also quickly changed.
We kept track of our data from each daily workout, allowing us to compare our individual performances over time.  We used the data and our competitive personalities to further motivate us to continue to improve.  And, we held each other accountable, which helped us to continue with the training regimen.
My garage gym has expanded to beyond its physical capacity.  The exercise program has been successfully tested on all kinds of people ranging from soccer moms to kids to former professional athletes and fitness trainers.  We have had amazing results.
I have personally enjoyed watching people benefit from this revolutionary new science-based fitness program.  As a result, Chad and I decided to expand it beyond the physically constraining walls of my garage gym by developing a mobile fitness application based on the same principles.
Phyzseek is a mobile workout and motivation application that utilizes effortlessly captured user performance data as well as social media to uniquely motivate everyday competitors to achieve supreme health and fitness through daily-delivered, science-based, doctor-developed, high-intensity, short-duration workouts which maintain and enhance functional longevity.